Lawyer: Mitsuo Nakamoto
(The first representative)
Registered in November 1930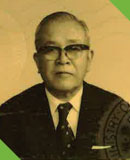 Lawyers:Mitsutoshi Nakamoto
(The second representative)
Registered in April 1965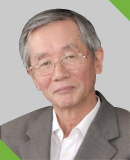 Lawyers:Mitsuhiko Nakamoto
(The third representative)
Mitsuhiko Nakamoto is an attorney licensed both in Japan and in the States of New York in the United States and is specialized in international transactions, Japanese corporate matters and litigations.
He graduated from Keio University in 1995 and passed the Japanese bar in 2002 and the NY bar in 2007. He also obtained a certificate in business administration from a US University, Kellogg Graduate School of Management, in 2006. His experience includes two years in an international Japanese law office, Shikanai, Ueda and Inuzuka, one year in a Japanese mega bank, Mizuho Corporate Bank, and then he joined Nakamoto Law Office in 2008 and became the principal of Nakamoto & Nakamoto in 2014.
He speaks Japanese (Native), English (Fluent) and Spanish (Fluent).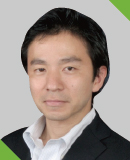 Lawyer: Mayumi Fujimoto
(partner)
Mayumi Fujimoto is an attorney licensed in Japan, and is specialized in Japanese corporate matters and litigations.
She graduated from The University of Tokyo Faculty of Law in 2008 and from The University of Tokyo Graduate Schools for Law and Politics in 2010, and passed the Japanese bar in 2010. Her experience includes one year in a Japanese law office, Suzukiyasuyuki, two years in a Japanese law office, Hashimoto, five years in a Japanese law office, Tokyo sakurabashi, and then she joined Nakamoto & Nakamoto Law Office in 2020.
She speaks Japanese and English.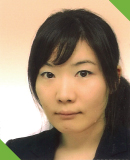 Lawyers:David B. Hoppe
(Of Counsel)
David B. Hoppe is an attorney licensed in the State of California and in the State of New York. He has over twenty years of experience negotiating and closing a broad range of international transactions, focusing particularly on media and technology licensing, international mergers/acquisitions and joint ventures, corporate finance, intellectual property, corporate governance, and general corporate matters, as well as early-stage company work. His experience includes seven years with two major international law firms, during which time he was based in New York City, Tokyo, Stockholm, Helsinki, and Los Angeles. He also worked for nearly two years as in-house international counsel with a NASDAQ-listed Silicon Valley internet media and access provider, and for a year as outside general counsel for the North American operations of a major Japanese video game publisher.
He speaks English (Native) and Japanese (Fluent).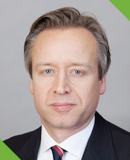 Judicial scrivener:Reiko Hirata
Reiko Hirata is a judicial scrivener licensed in Japan. She passed the Japanese judicial scrivener in 1993.She has credentials of accredited agent of summary court.
Her affairs had notarial deed, inheritance (will), registration, incorporation formality, debt-workout and others.
Administration:Junko Kojima


Business Formations and Incorporation
Contracts – Sales Agreement, License Agreements, Service Agreements, Distributorship Agreements, Agency Agreements and other corporate related Agreements
Mergers and Acquisitions, Joint Ventures, Stock Purchase Agreements, Asset Purchase Agreements
Dissolution and Winding up

Shareholders Meeting
Employment
Real Estate
Patent, Trademark and Copyrights
Unfair Competition
Tax

Commercial Litigation
Labor and Employment Litigation
Family Law Litigation
Alternative Dispute Resolutions
– Arbitration/Mediation


※Please let us know if you need an estimate of fee.
※The following is a standard method of calculation of the fees
(excluding transportation costs, postal fees and other expenses).

The fees will be comprised of the initial fee and the contingent fee.
Both fees will be calculated based on the amount of the economical benefit of the claim.
| Amount of the economical benefit | Initial fee | Contingent fee |
| --- | --- | --- |
|        ~3M yen | 8% | 16% |
| 3M yen ~ 30M yen | 5% + 99,000yen | 10% + 198,000yen |
| 30M yen ~ 300M yen | 3% + 759,000yen | 6% + 1,518,000yen |
| 300M yen ~ | 2% + 4,059,000yen | 4% + 8,118,000yen |

The legal fees will be calculated based on hourly charges.

※For corporate clients, we ask to enter into a Retainer Agreement with our office (Please feel free to ask about the contents of the Retainer Agreement).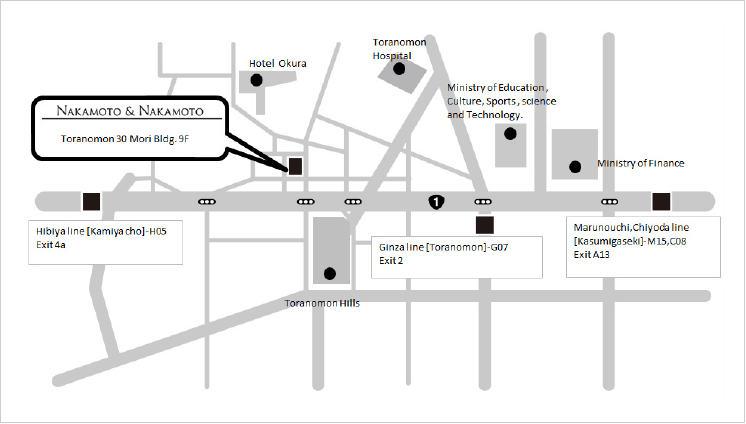 About six-minute walk form 2 exit of [Toranomon] station Tokyo Metro Ginza line
About six-minute walk form 4A exit of [Kamiyacho] station Tokyo Metro Hibiya line
About ten-minute walk form A13 exit of [Kasumigaseki] station Tokyo Metro Marunouchi and Chiyoda line